Biofuels, including ethanol, are part of the Blueprint for A Secure Energy Future outlined Wednesday by President Obama.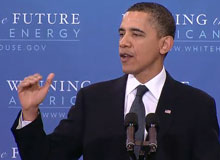 "In an economy that relies on oil, rising prices at the pump affect everybody – workers and farmers; truck drivers and restaurant owners," said the president during a speech at Georgetown University. "The only way for America's energy supply to be truly secure is by permanently reducing our dependence on oil."
Obama voiced support for biofuels as an alternative to oil, "not just ethanol, but biofuels made from things like switchgrass, wood chips, and biomass."
"That's why we're investing in things like fueling stations and research into the next generation of biofuels," he said. "Over the next two years, we'll help entrepreneurs break ground on four next-generation biorefineries – each with a capacity of more than 20 million gallons per year. And going forward, we should look for ways to reform biofuels incentives to make sure they meet today's challenges and save taxpayers money." Obama also urged the expansion of alternative vehicles in the federal fleet and announced that he is directing agencies to purchase 100% alternative fuel, hybrid, or electric vehicles by 2015.
At one point, the president seemed to channel Jon Stewart in a bit he did last June about America's goals for energy independence. "We've known about the dangers of our oil dependence for decades," Obama said. "Richard Nixon talked about freeing ourselves from dependence on foreign oil. And every President since that time has talked about freeing ourselves from dependence on foreign oil. Politicians of every stripe have promised energy independence, but that promise has so far gone unmet."

"The Daily Show with Jon Stewart" piece shows all of the past eight presidents, from Nixon to Obama, talking about moving "beyond a petroleum-based economy," first playing clips of both Obama and George W. Bush saying almost the exact same words. He follows up with Clinton, Bush 42, Reagan, Carter, Ford and Nixon making similar statements and talking about ideas like solar, natural gas, fuel cells and even "gasohol."
It's very funny and worth seeing again even if you have already. Watch it here: