By Cindy
Posted: September 1, 2011
Corn growers in the Midwest have been putting the spotlight on ethanol during state fairs this summer.
During the Missouri State Fair, an official from USDA's Rural Development agency paid a visit to recognize Missouri as the national leader in renewable energy. Through a partnership with the Missouri Corn Merchandising Council (MCMC), the Association of Missouri Electric Cooperatives and the Missouri Department of Agriculture, Missouri fuel retailers have been approved to install 26 biofuel pumps - more than any other state in the nation.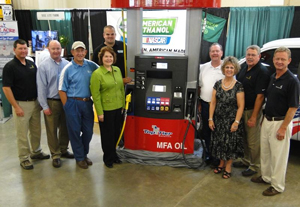 "It's the Show-Me State and they're showing us alright," USDA Rural Development Business Program Administrator Judy Canales said during a speech at the Missouri Corn booth. "It behooves Missouri because in the long run this is going to be a locally grown product that is creating and keeping jobs in rural communities. That's why we're so pleased to have this partnership with Missouri Corn."
In this photo from Missouri Corn, Canales (green shirt) poses with from left to right: Missouri Corn board member Rob Korff of Norborne, Mo.; Matt Moore, Missouri USDA Rural Development business program director; Barry Hart, executive vice president of the Association of Missouri Electric Cooperatives; Bradley Schad, Missouri Corn director of ethanol policy; Gary Marshall, Missouri Corn CEO; Janie Dunning, Missouri state director USDA Rural Development; Kenny McNamar, Missouri Corn Growers Association president from Gorin, Mo.; and Billy Thiel, Missouri Corn Merchandising Council chairman from Marshall, Mo.

Nebraska Corn Board along with the Nebraska Ethanol Board (NEB) are on site promoting ethanol and flex fuel vehicles.
The groups are splitting duties with NEB focusing on FFV awareness and the economic benefits ethanol provides to both local and state communities and the national economy. Next door, the Corn Board will have a blender pump on display with jars of corn representing corn production from 1930, 2011 and the future. "There are approximately 100,000 FFVs in Nebraska and nearly 90 percent of consumers don't know they drive a flex fuel vehicle," said Kim Clark, Ag Program Manager from the Nebraska Corn Board. "The Nebraska State Fair is a great opportunity to educate consumers from all parts of the state about flex fuel vehicles and ethanol."
On Saturday, September 3, from 3:00 - 4:00 pm, there will be a "Do You Flex Fuel?" presentation. On hand to answer questions will be an auto mechanic, fuel retailer, ethanol expert and automobile salesperson. Finally, to showcase ethanol in action, the groups will host an ethanol blended fuel promotion beginning Saturday, September 3rd through September 5th. FFV drivers will see discounts on mid-level ethanol blends include a 20 cent discount on E20, 30 cents on E30 and 85 cents on E85. Click here for details on the FFV fuel promotions.