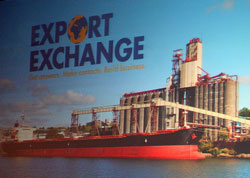 More than 200 international buyers and end-users were in Minneapolis earlier this week to meet with grain suppliers and to hear from industry and government leaders about prospects for U.S. export capacity, particularly in light of this year's drought.
"What we're telling customers around the world is how the U.S. producers will be there for them," said Tom Sleight, President & CEO of the U.S. Grains Council, which sponsored the 2012 Export Exchange with the Renewable Fuels Association. "The US farmers will be there for them now and in the future. Yes, we have droughts, that's a problem we have, but for the future the U.S. has always responded to production challenges with more acres, greater production. Our message to the international community is that the US farmer is there in the international market for keeps."
Listen to an interview with Sleight here: USGC President Tom Sleight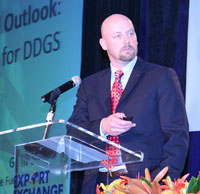 The Export Exchange focused heavily on exports of the ethanol co-product distillers dried grains (DDGS), which have increased substantially in recent years. RFA vice president of research and analysis Geoff Cooper addressed concerns that a waiver of the Renewable Fuels Standard could impact the supply of DDGS, quoting one study that estimated a waiver might reduce ethanol production by about 3% or 500 million gallons. "If a waiver was granted, you might see distillers grains prices increase about six percent commensurate with that 500 million gallon reduction," he said.
However, Cooper says they expect a waiver will only reduce corn prices by about four cents a bushel. "We believe that a waiver of the RFS is completely unnecessary and we do not believe that it would noticeably impact corn prices or availability in the current marketing year," he said. "The markets are already adjusting and there is no evidence that a waiver will provide any additional relief."
Listen to Geoff's comments here: Geoff Cooper Comments
At the conclusion of the Export Exchange conference, teams of international grain buyers fanned out across America, from Ohio to Washington State, and Minnesota to Louisiana to gain further first hand information about the current U.S. corn crop and build relationships leading to future sales. Teams from Saudi Arabia, Egypt, Turkey, Mexico and Taiwan got a head start, visiting U.S. farms, agribusinesses, and export terminals before heading to Minneapolis. This week after the conference, a Japanese team headed to Iowa and Minnesota, a European team went to Nebraska and a Chinese team had visits scheduled in Ohio and Louisiana.
You can find photos from this years Export Exchange here: 2012 Export Exchange