By Cindy
Posted: October 30, 2012
The list continues to grow of newspapers, organizations and companies opposed to California's Proposition 37, that would require the labeling of any foods containing genetically modified crops.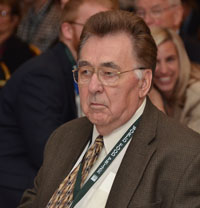 "It's just awful in my opinion," said Truth About Trade & Technology (TATT) Chairman Emeritus and former American Farm Bureau president Dean Kleckner. "It's as though there's something wrong with biotech. Seventy percent of the food that we buy in the supermarket in this country has some element of biotechnology in it - could be corn oil, could be soybean oil."
"Biotech is here to stay," Kleckner added. "It's the new conventional agriculture, really."
TATT hosted its annual Global Farmer Roundtable at the World Food Prize in Iowa recently, which featured a visit to the seed lab at Iowa State University and Couser Cattle Company adjacent to Lincolnway Energy ethanol plant in Nevada, Iowa. Participants at this event included 17 producers from Canada, Honduras, India, Mexico, New Zealand, Philippines, South Africa, Swaziland, United Kingdom, Uruguay, US, Zambia, and Zimbabwe.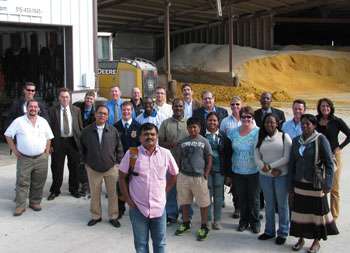 Kleckner says most farmers in the world want to use biotechnology and those living in countries where the use of biotech crops is prohibited believe they are at a disadvantage. "And I agree with them that they are disadvantaged against the U.S. and Argentina and Canada and South Africa and other countries that do use biotechnology."
Exposing producers in other countries to the advantages of using distillers grains as livestock feed is also important, which is why the visit to the Couser operation is a regular feature for roundtable participants.
"I'm a believer in ethanol from corn," said Kleckner. "The corn that is used for ethanol, a lot of that comes back to farmers in the form of distillers grains."
Couser Cattle Company owner Bill Couser was instrumental in starting the farmer-owned Lincolnway Energy ethanol plant, which is located next to his operation so he can take full advantage of using distillers grains as feed for his livestock.
You can see more photos from the TATT Global Farmer Roundtable on their Facebook page.
Listen to my interview with Dean from World Food Prize: Interview with Dean Kleckner