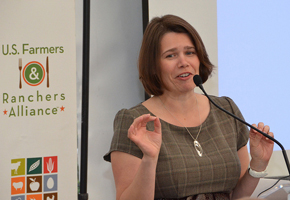 The U.S. Farmers & Ranchers Alliance helped celebrate 40 years of National Agriculture Day this week with a breakfast on Capitol Hill and educational briefing on "The New Language of Food and Modern Agriculture." More than 150 people — including Ag Day participants, members of the food industry, and Congressional staff — attended the event.
Illinois corn farmer and USFRA "Face of Farming and Ranching" Katie Pratt shared her farm story and the need for others to share their personal stories. "This Ag Day – and every day – I encourage farmers and ranchers from across the country to be active, share their personal stories, and answer questions from their community about how food is grown and raised," she said. Katie also live tweeted the event @USFRA.
Also on the program was Erika Bowser-Poppelreiter, a Midwest farmer and farming/ranching expert with Ketchum, who presented a briefing on consumer messaging research and how the agriculture industry can work to restore relevance. The event featured a new perspective on food culture today led by farmers and ranchers.
Listen to the whole session here: USFRA Ag Day Educational Session