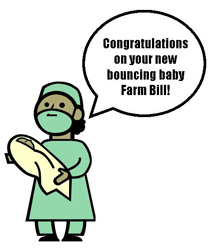 After a what seemed to be a never-ending labor process, Congress has finally delivered a new farm bill - well past its 2012 due date.
National Corn Growers Association President Martin Barbre, like most farmers, was happy to see the long process come to an end. "While it's not perfect, we're pleased to see the bill contains many provisions we've been working hard for over the years," he said.
There are definitely some changes included in the legislation. "This is not your father's Farm Bill. It's a new direction for American agriculture policy," said Sen. Debbie Stabenow (D-MI), Chairwoman of the Senate Agriculture Committee.
Among the most notable changes for farmers is the option to participate in either the revenue-based Agriculture Risk Coverage program or a Price Loss Coverage program with fixed reference prices. Stabenow notes the legislation also includes "one of the largest investments in land and water conservation we've made in many years" consolidating 23 existing conservation programs into 13 programs.
As a nod to Stabenow's tireless work on the legislation for the past two years, President Obama is expected to sign the bill in Michigan on Friday.