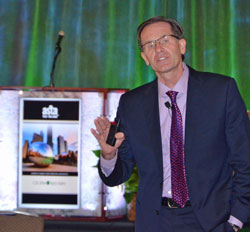 AgResource Company president Dan Basse giving his economic outlook for the year at the ASTA CSS 2014 and Seed Expo last week.
Basse says the protein side of the plate is doing very well right now, dairy and beef in particular, "so we call it the Year of the Cow" and while grain farmers will likely struggle for the next few years, "they've had a very good 5-7 years behind them."
Basse notes that this crop year is historic in that it's the first time we've seen record world production for corn, wheat and soybeans and global stocks are also record high. "It should give us pause as agricultural producers that unless we start making some cuts or unless something happens in the world climatically speaking, we're going to keep piling on those big stocks and it's going to create issues going forward," he said.
With the biofuels market reaching maturity, Basse says that means more stagnant demand for corn use to make ethanol. "We have an EPA that can't even make a decision on what the mandate should have been for 2014 and surely can't make one for 2015," he said. "We'll still see corn demand for ethanol somewhere in the vicinity of five billion bushels, but there's not that growth engine we've had in the last five years."
Basse expects U.S. corn demand to remain about 13.5 billion bushels for the foreseeable future as export demand is also slowing with China producing more corn than it needs with strong incentives for farmers. "China has produced eight consecutive record corn crops … it's swimming in corn," he said. "So the Chinese are doing what they can to keep world corn out of the market and that's what this GMO issue with MIR 162 is all about and it's not likely to change anytime soon."
So, as far as demand for corn, Basse says, "We're really looking at the livestock sector and maybe we'll build herds or get meat exports going."
Lots more in this interview with Basse here - a condensed version of his one hour breakfast presentation at CSS. Interview with Dan Basse, Ag Resources