Posted By Cindy July 3, 2014
USDA's National Agricultural Statistics Service (NASS) is now estimating corn acreage planted is at 91.6 million acres, down 4 percent from last year, which represents the lowest planted acreage in the United States since 2010, but still the fifth-largest acreage planted since 1944.
USDA chief economist Joe Glauber says with the numbers in, the attention shifts from acres to weather and yield prospects. "July is a very important month for corn," said Glauber. "So for the next six weeks, the attention is going to be shifting to what those yields look like."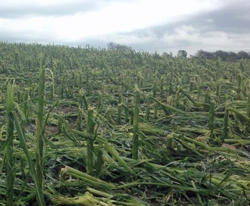 As of Sunday, the corn crop was looking pretty good, according to meteorologist Brad Rippey. "The corn now 75% good to excellent on June 29, an increase of one percent from a week ago, eight points better than this time in 2013," Rippey says.
Rippey notes there are problem areas like Minnesota with 10% of the crop in poor to very poor condition due to flooding. And since the crop progress survey was done on Sunday, corn fields in Iowa, like the one pictured here, were literally flattened after severe storms brought heavy rain, hail and high winds.
Just saw a meme that seems applicable. "Mother Nature is not only bipolar, but clearly off her meds." Keep that in mind farmers, you are at the whim of a crazy lady.