Posted By Cindy July 30, 2008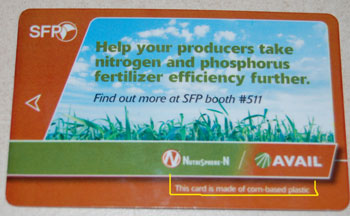 Sponsored hotel card keys are getting to be common at conferences, but at the Ag Media Summit it was the first time I noticed them being made from corn-based plastic. I don't usually scrutinize my hotel card keys, so there could very well have been at any one or more of the meetings I have been at in the last year or two - but I noticed it this time. Apparently these cards have been commercially available for about two years.
CornCard USA offers the product, which can also be used for credit cards, ID cards or any plastic cards that have been traditionally petroleum-based PVC plastic. The Arthur Blank Company advertises the cards on-line as being, "manufactured from corn, an abundant and annually renewable resource. Since corn is domestically grown, it is readily available for manufacturing, supports US farmers, the US economy, and reduces dependency on foreign petroleum supplies."
Recently, other companies have taken up the idea, like Advantidge, a California-based security identification company. In April, the company began selling corn cards, which this story I found says is "an eco-friendly card made from a special type of corn that does not affect human corn supply." I would be interested to know what this "special type of corn is." Sounds to me like they were just trying to deflect any potential criticism that they were using food for cards!