Posted By Cindy April 23, 2009
Dairy farmers and livestock producers from southern Missouri gathered at the McCallister Farm last week to explore nutritional considerations, storage techniques and the economic advantages for feeding livestock the ethanol co-product dried distillers grains (DDGs). Sponsored by the Missouri Corn Merchandising Council (MCMC) and University of Missouri Extension, the field day drew a crowd of 75 producers and guests from across the state.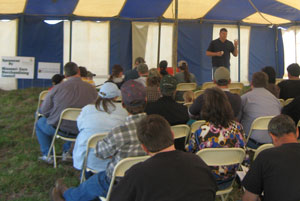 "As a feed source, distillers grains offer economic and nutritional benefits to Missouri's livestock producers," said Gary Wheeler, Missouri Corn director of business development. "This field day allowed dairy producers to see those benefits firsthand. We hope they will take advantage of this value-added feed and apply what they learned at this event in their own operations."
During the field day, producers learned the proper storage and handling techniques for dried distillers grains from the McCallisters, who utilize the ethanol co-product in their operation. Jeff Drost (pictured), animal nutrition sales manager with LifeLine Foods of St. Joseph, Mo., explained the latest technology and uses of corn and its co-products and LifeLine also provided the distillers grains for the field day.