Posted By Cindy April 19, 2010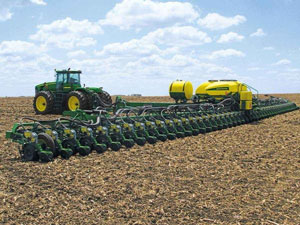 There must be a lot of these 120 foot planters out in the fields - or farmers were just working their tails off last week in the perfect weather - because planting made phenomenal progress all over the corn belt. According to USDA, 19 percent of the crop was in the ground as of Sunday, twice the normal for this time of year, and 14 percent ahead of last year.
Of the 18 states top corn producing states, only two are behind normal now for this time of year - and most are WAY ahead of average. Illinois has 34 percent planted, compared to 12 percent for the five year average and just one percent this time last year. Indiana has more than four times the average in the ground at 17 percent - nothing was planted a year ago. Minnesota has 13 percent of the crop planted where the average is just one percent.
There are some very happy farmers out there right now, like Kelly Robertson of Benton, Ill., who shot this video last week in a multi-tasking mode - planting, talking on the cell phone and shooting video, all at the same time! This video was shot on April 13 and Kelly reports on his blog - "Ground worked like a dream and the corn planted like one also. This is the earliest I have ever planted corn. 10 days earlier than the "old record"." This is so great to see farmers being creative and using social media like this. You go, plow boy!