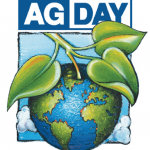 It can seem like everyone has a "day." From margaritas to ravioli, calendars could become a dizzying disaster trying to keep on top of what is being "celebrated" every day of the year. Today is different though. Today, America celebrates the American icons that provide abundant food, feed and fuel. Today, we celebrate farmers.
Officially, Ag Day was created to recognize and celebrate the abundance produced by agriculture. Every year, agricultural associations, universities, companies, government agencies and many others across the country join in a wide variety of activities designed to bring the story of farmers and ranchers to the forefront. In 2014, the achievements of America's family farmers certainly warrant a celebration.
America's corn farmers recovered from a massive drought in 2012 to produce a record corn crop in 2013. Growing more than 13.9 billion bushels of corn, they showed the resilience and resolve indicative of our national character.
To learn more about the 2013 corn crop, click here.
In Washington, the U.S. Farmers and Ranchers Alliance, of which NCGA is a founding member, is taking a leadership role in bringing these and other accomplishments to light. This afternoon, USFRA held a panel discussion focusing on the next generation of American farmers and ranchers. Discussing what it means to be a farmer or rancher taking over responsibility for their family business in today's environment, the participants brought the challenges and opportunities facing the future of ag to light.
On Wednesday evening, USFRA brings this discussion to life by hosting a preview of the new feature-length documentary, Farmland. The film, directed by Oscar and Emmy winner James Moll, takes an intimate look at the lives of six farmers and ranchers in their 20s. These young farmers have all taken responsibility for running their farming operations. Following the film, an intimate Q&A session will allow attendees to dig more deeply into their unique and fascinating situations.
To view a trailer of Farmland, click here.
Ag Day celebrates agriculture and, in doing so, it celebrates the American traditions of individualism and excellence that made our nation what it is today. So, maybe take a moment to hug a farmer as many may suggest. Just ask them first, they will still be hard at work and may need to wash up first.