The Senate is expected to follow the lead of the House Thursday and override the presidential veto of the Water Resources Development Act, better known as WRDA. The House vote on Tuesday was 361-54 with 18 members absent, well over the two-thirds needed for the override.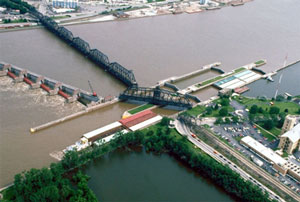 Late Wednesday, the Senate was debating the measure with most speaking in favor of the override. President Bush vetoed the $23 billion bill, which includes a variety of water-related projects around the nation, including the modernization of seven locks along the Upper Mississippi and Illinois River.
"This is great! We have worked so hard and so long to get improvements on the Upper Mississippi River System authorized," said Ron Litterer, president of the National Corn Growers Association.
Litterer says the project to upgrade the lock system will improve delivery of crops to the global marketplace. More than half of all grain exports are shipped by way of inland waterways, accounting for $8.5 billion in exports.
The bill will also provide funding for environmental restoration, flood control, port modernization, irrigation and hurricane protection.
If the Senate does vote in favor of the veto override, as expected, it will be the first time that has happened during the Bush presidency. The Senate originally passed WRDA by an 81-12 margin.