Posted By Cindy July 27, 2010
Despite heavy rains and some brutal summer heat, the corn crop nationwide looks great.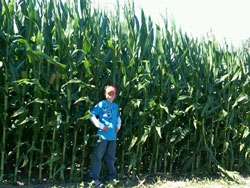 According to the latest USDA report out this week, 72 percent of the crop is rated good to excellent, with a few more percentage points moving over to the excellent side. On the progress side, 84 percent of the crop is silking - compared to 70 percent average and 52 percent last year, and 17 percent is in the dough stage already, which is 10 points ahead of this time last year and a few points ahead of normal.
Only two of the major corn production states - Colorado and South Dakota - have not yet reached the halfway point in silking, according to USDA meteorologist Brad Rippey. "If you're looking for problems with the corn, you'll have to go to the fringes of the corn belt, well outside the major production zone," he said. "In North Carolina, where it's been very hot and dry, for example - 38 percent of the crop rated very poor to poor."
The good-looking corn pictured here is growing near Bloomington - a photo taken recently by Tricia Braid-Terry of the Illinois Corn Growers' staff. The good-looking young man in the the photo is her son, Ian. Thanks, Tricia!